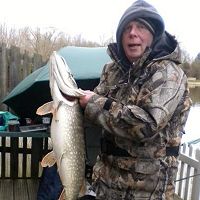 20lb Pike caught by William at
Riverside Cottage 12/03/13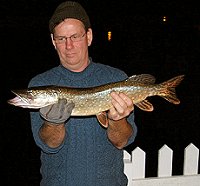 Pike caught by Dave at Riverside
Photo Courtesy of Alf Mills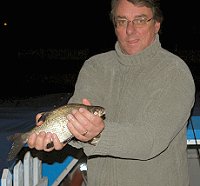 Bream caught by Alf at Riverside
Photo Courtesy of Alf Mills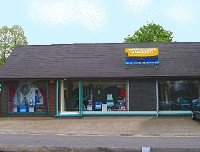 Wroxham Angling & Gift Centre
01603 782453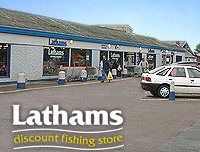 Lathams Discount Fishing Store
Potter Heigham
Open Coarse Fishing Season 16 June to 14 March.

Both Anchor and Riverside Cottages are located directly on the waterfront of the River Bure with a private 17 foot quay headed mooring for each property. Perfect for fishing directly from your own garden, or renting a boat locally by the day or for a few days (and keeping it on your own private mooring) to fish slightly further afield.
The Broads is a good area for fishing where bream, eel, perch, pike, rudd and tench can be found. The coarse fishing season runs from 16 June to 14 March and all that you need to fish is a current Environment Agency licence, available from post offices (including Hoveton Post Office which is within 2 minutes walk of the Cottages).
Dinghy Hire - Ideal for fishing
A Dory or dinghy with an outboard motors can be hired locally from Norfolk Broads Fishing Ltd. Located a few minutes walk from your cottage, rental can be by the day or weekly and boats range in size up to 16 feet (for up to 4 adults). Each boat is ideal to moor at alongside your cottage for the duration of your stay and full details including the latest prices can be viewed online at Norfolk Broads Fishing Ltd (See below for more details of fishing boats for hire locally)

Each cottage is equipped with a dedicated bait fridge in the integral garage for use by our guests.
If you fancy trying another location for variety, there are many other places where you can fish from the bank or you can hire a day boat. There are fishing platforms suitable for wheelchair users at Rollesby Bridge and on one of the boardwalks at Filby Broad. There are also fishing platforms along the River Bure near Cockshoot Broad, for use by members of the Norwich and District Anglers' Association.
Please remember never to discard fishing tackle, as it can easily harm wildlife. If you are fishing from a Broads Authority free mooring, you must give way to boats wishing to moor, and please do not fish from a moving boat.
Fishing bait, rods, reels, tackle and extensive fishing supplies are available locally (within a short 10 minute walk from your cottage) from:

Wroxham Angling & Gift Centre
Station Rd, Hoveton, Norwich, Norfolk NR12 8UR ,Tel: 01603 782453. To order bait and bits by phone please call 01603 782453. Orders can be collected from the shop 08.00 to 17.00 Monday to Saturday, and 10.00 to 15.00 on Sundays.

In addition to supplying all fishing tackle, bait and supplies, Wroxham Angling can also offer guided pike fishing trips with a specialist guide who has over 20 years' experience, and knows the river system like the back of his hand. What he doesn't know about Broadland piking, simply isn't worth knowing! Whether you are a newcomer to the sport, fancy a guided day out, or simply want to learn a few more tips and tricks then Mark's your man! If you would like more details on these guided trips please call 01603 782453.
Alternatively, you can visit Lathams Discount Fishing Store at Potter Heigham, close to Potter heigham Bridge (15 to 20 minutes by car). They also have an extensive online fishing store.
Alternative Local Places to Fish During The Broads Closed Season
The Broads has a closed fishing season between 15th March and 15th June each year. However, there are still a number of private lakes that can be fished all year round. The closest to Wroxham are:
1. Stanninghall Lakes
Stanninghall has three lakes; the first of which is the carp lake with fish to 26lb. It is a syndicate lake on weekends and day ticket on week days. The middle lake is the day / match lake. This unusual shaped lake is feature packed and newly stocked with fish up to 18lb. It holds lots of carp and a good head of tench to double figures. There are also pike to 20lb and lots of silver fish.
The back lake is stocked with carp, tench and pike.
Day tickets on the bank
Contact Kevin on 01603 737426 or 07555 135 452
2. Holly Farm, South Walsham
Holly Farm has two lakes of around 3/4 of an acre, with very heavy stocks of small (2lb to 4lb) carp, with other fish up to 15lb. It has a good mixed head in the top lake with carp, tench, roach, rudd, bream and even goldfish. This is a great venue to take a youngster, or just to catch lots of fish from.
Day tickets on the bank
No night fishing
Local Dinghy Hire - Perfect for fishing
Hire a Dory or dinghy complete with an outboard motor, full tank of fuel and insurance - available from Fish the Broads on 01603 783777 within a short 5 minute walk of your cottage. Dinghies can be moored on the private moorings alongside your cottage for the duration of your stay.
Wroxham Cottages is rated 4.8 stars by based on 23 reviews