About the Norfolk Broads
The Norfolk Broads is a National Park and area of outstanding natural beauty. Offering 125 miles of rivers and wetland habitat, it is a unique holiday destination which will appeal to everyone looking for complete relaxation. Local attractions include boat hire, walking, cycling and fishing (available from each cottage riverside terrace garden). Your cottage is located within a couple of minutes level walk of the centre of Wroxham village which is often referred to as the 'Capital of the Broads'. Wroxham has a great range of shops (including the famous Roy's of Wroxham department store and Food Hall) plus a good choice of places to eat and drink without having to resort to your car.
Wroxham was the home of the Broads boat hire industry in the early 1900's and remains a bustling boaters paradise whether you are on the water or just relaxing by the river watching all of the boating activities from your riverside garden.
With huge Norfolk skies, the Broads really is a magical waterland with so many attractions to explore and see. The outstanding local wildlife includes kingfishers, otters, marsh harriers and many species of waterfowl (many of which can be fed from the riverside garden of your holiday cottage!). The sunsets are some of the most spectacular in the country, with amazing colours enhanced by the reflections on the still waters of the Broads.
Wroxham Information
Download a copy of this useful guide to visiting Wroxham: click here to open.
The area of Wroxham is actually made up of two Broads villages - Wroxham and Hoveton, separated by the famous 17th Century low bridge spanning the River Bure. Wroxham is today often referred to as the 'Capital of the Norfolk Broads' and is an ideal location to stay with numerous waterside and local places to eat and drink within a short two minute walk of your cottage.
For a detailed map of Wroxham and a list of all of the local ammenities including shops, pubs, restauants, public slipways for boat launching, doctors surgeries, laundrette, boatyards (local boat hire), fishing tackle suppliers, swimming pools, churches, cycle hire, taxis etc please click here.
Wroxham was the home of the hire-boat industry back in the Victorian times and the town still retains much of the elegance and charm from this period as well as still being one of the main centres of boating on the Norfolk Broads. If you would like to enjoy Wroxham and the surrounding Broads by water it is easy to hire a boat by the hour, half day, day or longer - all located within two minutes walk from your cottage. A short boat trip will take you to Wroxham Broad where it is possible to watch beautiful traditional Norfolk yachts racing, many dating back to the mid 1900's.
In the town itself is located 'Roys of Wroxham', which claims to be the 'largest village store in the country'. Offering all of the shopping delights of a large department store combined with a supermarket, there is a good choice of local produce on sale, making a welcome change from the normal large chain stores.
Exploring a little further afield, the sandy Norfolk beaches are easily accessible within a 15 minute drive or you can enjoy the shopping delights and tourist attractions offered by Norfolk's historic city of Norwich.
For further information, you can also contact the Wroxham Tourist Information Offfice, Station Road, Wroxham - Telephone 01603 782281 (Open Easter to October).
Things to See & Do Locally
Canoe & Cycle Hire
Wroxham Broad - Sailing or watching the boats. Hire a boat from Wroxham town centre (two minutes walk away from the cottages), its the only way to see the broads!
Bure Valley Railway - Opened in 1990, the Bure Valley Railway offers an 18 mile round trip through picturesque countryside which is as varied, interesting and beautiful as any to be found on a railway journey in England. Norfolk's longest fifteen inch gauge line runs between the ancient market town of Aylsham and Wroxham, the 'Capital of the Norfolk Broads'. There are also intermediate stations at Brampton, Buxton and Coltishall. You May join or alight from the trains at any station. See website for timetable & further details.
BeWILDerwood - 50 acres of wild, imaginative, outdoor adventure. Treehouses, zip wires, jungle bridges, Crocklebogs, boat trips, marsh walks and great organic food. Located on the A1062 between Wroxham and Horning. See website for opening times and full details.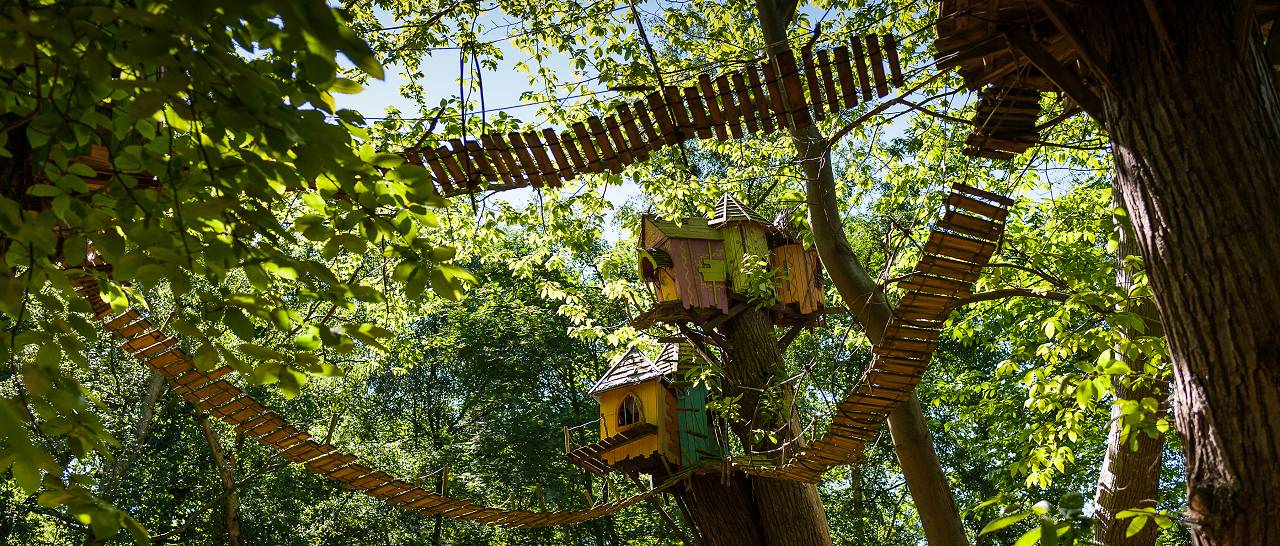 Dinosaur Adventure Park - A day of discovery, adventure and fun. Dinosaur Trail and Track T-Rex; adventure play areas, secret animal garden, new Xtinction and more. See website for details.
Woodbastwick - Thatched houses and the Woodlands Brewery, do you need another excuse to visit ?
Wroxham Barns Craft Centre - Craft workshops, children's Fun Fair and Junior Farm, set in parkland 1½ miles north of Wroxham Bridge. Open: daily 10-5. See website for full details.
Hoveton Hall Gardens - 1 mile north of Wroxham. Beautiful woodland and walled gardens, including woodland and lakeside walks. Open: Easter Sun-early Sept, Wed, Fri, Sun and bank holiday Mondays (also Thurs in May and June) 10.30-5. See website for full details.
Dragon Hall - Discover 100 years of Norwich history in this unique, recently restored medieval trading hall on King Street, Norwich. With breathtaking timber-framed roof and carved dragon. See website for details.
Short Break Boat Hire - Why not extend your stay by spending a few days afloat. Waterways Holidays offer short breaks and weeks throughout the Norfolk Broads. See website to check availability.
Fishing - Anchor and Riverside Cottages offer fishing directly from your own back garden terrace and mooring. The coarse fishing season runs from 16 June to 14 March. Please see our fishing page for more details. Wroxham Angling Bait & Tackle shop (Tel: 01603 782453) can be found on Station Road, Wroxham opposite the Tourist Information.
Cycle Hire - The Norfolk Broads Cycling Centre between Hoveton and Horning on the A1062 at Bewilderwood, the new woodland adventure park, you can hire quality bikes and tandems to explore the local area. See website for details.
Slightly further afield....
Pettitts Animal Adventure Park, Reedham - Rides galore for children, family entertainment, exotic and domestic animals and birds to see as well as animals to feed and pet. See website for full details.
New Pleasurewood Hills, Lowestoft - Family Fun Park and Miniature Railway near Lowestoft - for opening times telephone (01502) 586000. See website for full details.
Bressingham Steam & Gardens - Bressingham has something for everyone! Enjoy the sounds and smells of steam trains. Walk and relax in 12 acres of glorious gardens. Visit the Dad's Army National Collection with Walmington-on-Sea Church, Jones' Butchers Shop and Mainwairing's Office. See website for details.
Beeston Hall - Open April 19th - 13th September, Fri, Sun, Bank Holiday Mondays (also Weds in August) 2 - 5.30 pm. Georgian country house in flint faced "Gothic" style with classical interiors, Tea room in orangery, wine cellars, art gallery and woodland walk. Tel: 01692 630771.
Norwich Cathedral - The nearby City of Norwich offers the splendid Romanesque Norfolk Cathedral dating back over 1000 years. It has the second highest spire and largest monastic cloisters in England and guided tours are available from June to October. See website for further details.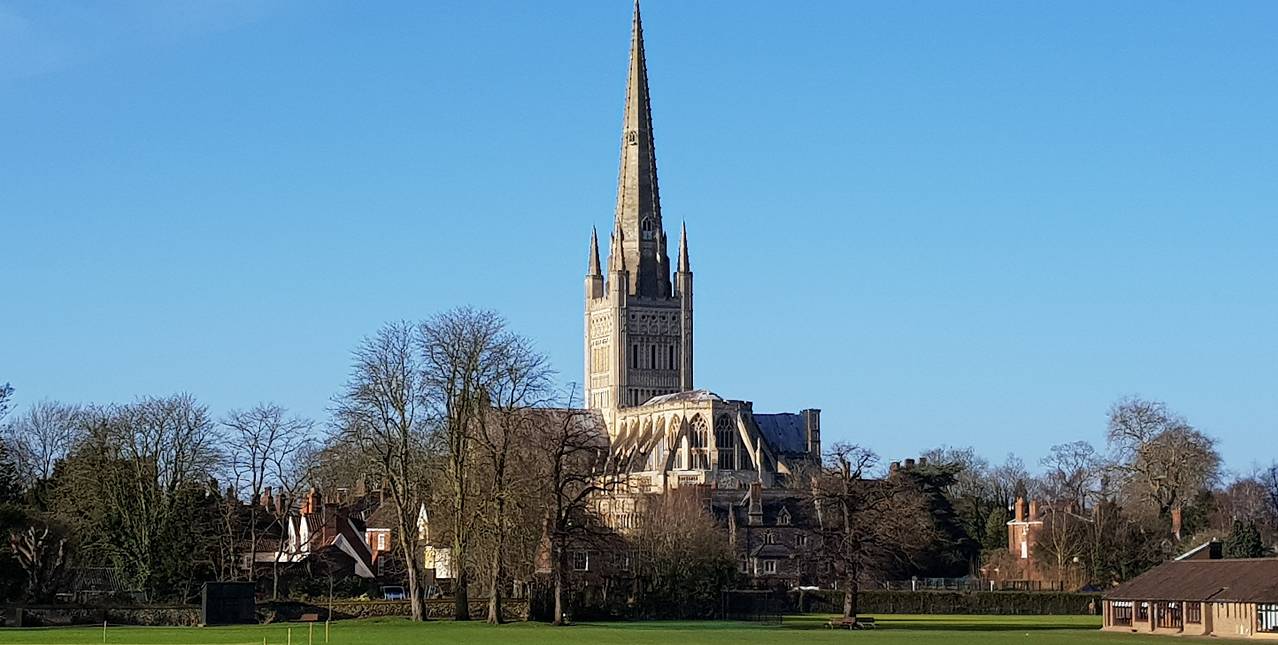 City of Norwich Aviation Museum - Close to Norwich City in Horsham St Faith, can be found the Aviation Museum. Located some 5 miles from Wroxham, the Museum features many historic aircraft including the massive Vulcan Bomber plus many aircraft which flew in the past from the numerous Norfolk airfields. See website for details.
The Inspire Discovery Centre - East Anglia's science centre and exhibition offering over 40 hands-on exhibits. See website for details.
Norwich Castle Museum and Art Gallery - Containing a superb collection of Fine and Decorative Art, plus Archeology, Natural History and Geology displays. You can also visit the Castle battlements and dungeons to discover past secrets. See website for details.
Blickling Hall - Magnificent Jacobean house with garden and park. Famed for its long gallery, fine tapestries, paintings and rare books. Parkland and lakeside walks, with a sunken garden to discover. Reputedly home to the headless ghost of Anne Boleyn, Henry VIII's second queen. See website for details.
Thrigby Hall Wildlife Gardens - Find rare tigers, huge crocodiles, noisy gibbons and more exciting animals in he grounds of Thrigby Hall. Open daily from 10:00am. See website for details.
Horsey Windpump - Restored five-storey drainage windpump. Striking views across the Norfolk Broads and to the coast . An internationally important estate for wildlife and a premier bird watching area. See website for details.
Great Yarmouth Racecourse - In addition to regular race meetings, the course also hosts a wide range of public events including antique fayres, craft fayres and music concerts. See website for details.
The Norfolk Nelson Museum - As we commemorate the 200th anniversary of Nelson's State Heraldic Funeral, the Norfolk Nelson Museum seeks to help us to understand Admiral Lord Horatio Nelson and the times in which he lived. See website for details.
Great Yarmouth Sea Life Centre - Come face to face with all kinds of sea creatures; from sharks to stingrays, otters to octopus and tropical fish to turtles. See website for details.
Somerleyton House - Somerleyton Hall was originally a Jacobean manor but was remodelled in 1844, transforming it into the fine example of an early Victorian Hall in the Anglo-Italian style that we see today. See website for details.
Thursford Collection - Thursford takes you back in time to a traditional old fashioned fairground. Fairground rides, Wurlitzer organ and silent movie show plus Dickensian shops. See website for details.
Sandringham House - Country retreat of HM the Queen, set in 60 acres of glorious gardens. Fascinating museum, gift shop, restaurants and country park. See website for details.
Other websites of interest
Norfolk Broads Authority - The authority responsible for the management, planning and tourism on the Broads. See website for details.